About Abba Claims
No Recovery of Insurance Claim Funds by Us, No Fee Paid by You! No-Risk! Abba Claims Public Adjusters are some of the country's most experienced insurance claims adjusters.
Book Appointment
Contact Us
TALK TO YOUR PUBLIC INSURANCE ADJUSTER TODAY!
About Abba Claims Consultants, LLC
About Us
The Public Insurance Adjusters at Abba Claims Consultants are some of the country's most experienced providers of insurance claim adjustment services.
We strive to provide the finest possible customer service, keeping you informed of your insurance claims progress from the initial estimate until the final settlement check.
The majority of our clients come to us as direct referrals from previous customers, contractors and commercial property and multifamily management companies who appreciate our service and support. We consider referrals to be the highest form of compliment and welcome recommendations from others.
Our state-licensed public adjusters have backgrounds in construction, contracting, insurance and law. That experience helps them to provide better service since they know why each step of the process is important.
Our insurance claims adjusters handle everything from structure fires and building collapse to smoke damage and hail damage. Really, we do it all and we do it all for you!
When Your Insurance Claim Is Handled By Abba Claim Consultants Licensed Public Adjusters
You will receive a personal public adjuster, insurance appraiser or loss consultant assigned to your claim. You also receive access to our legal sources and highly recommended experts, along with full office support to assist you with the insurance claim process. Not only are the Public Adjusters with Abba Claim Consultants more experienced and versed in the insurance industry than most, they hold a reputation in the industry for obtaining the settlement that the customer deserves.
Our Professional Team Of Public Adjusters, Insurance Claim Consultants And Insurance Claim Appraisers
Take pleasure in being able to serve you in your most vital time of need.  Our public adjusters work with homeowners and business owners who have experienced catastrophic losses such as tornadoes, fires, floods, water damage, mold damage, sinkholes, hurricanes and other covered perils. We understand the challenges that lie before you.  We have the expert knowledge and experience that you are looking for in a critical time of need .
We care about your recovery and understand that few events in your life can match the emotional intensity and financial consequence as a serious property loss can be. It takes years to obtain property and establish a business but only moments to take it away. A few minutes of time invested in seeking out appropriate help and knowledge will greatly benefit you in your recovery. We are dedicated to providing our clients exceptional service in handling your insurance loss while providing your expert loss consultation throughout every step of your insurance claim.
Many people have not heard about our type of service until they have suffered a property loss. We understand that insurance companies would prefer that public adjusters, loss consultants and Insurance Appraisers not be involved with their claims as they enjoy a more controlled and powerful position if the insured is not educated in the claim process.  Insurance companies and the people who work for insurance companies are not bad people, however, many of the tasks that are required in your recovery can not or should not be performed by the insurance representatives. Abba Claims Consultants Public Adjusters was established to represent you and to protect your interest, in measuring, documenting and presenting insurance claims on your behalf, in effort to maximize as well as expedite your insurance recoveries. Once the stability of your home or business has been restored, our team of associates can concentrate on quickly preparing detailed assessments of loss and value for the various aspects of coverage and file these assessments on your behalf with insurance company representatives, therefore expediting claim settlement.
Our team includes attorneys on retainer that are ready and willing to advise you immediately of any limitations and/or exclusions that may be applicable to your policy, which may limit recovery of your claim.
Our associates are skilled, knowledgeable, experienced engineers, builders and or insurance claims loss experts, which prepare very detailed estimates of your loss. These estimates are in a form very familiar to insurance company adjusters and are skillfully developed and presented on your, our client's, behalf. Our team of professional public insurance adjusters and loss experts will then discuss the extent of the loss with the insurance company staff, adjusters or their experts for all parts of your claim. Abba Claim Consultants Public Adjusters will make the most of their years of experience, knowledge and expertise to agree on a maximum claim recovery on your behalf.
Don't delay your decision to get the help you need in your insurance claim. Please call us now so that we can review your claim and the insurance company's documents and position. We will obtain the appropriate insurance claim settlement that you deserve under your insurance policy coverage.
Abba Claims Consultants Professional Services
Licensed Public Adjusters for
Texas - Florida - Oklahoma - Louisiana - Missouri - Kansas - Iowa - Nebraska - Tennessee - South Carolina
Your Private Insurance Adjuster
How We Work For You
The Insurance Claim Process and how we obtain the maximum amount on your claim.
Commercial Claims Process
We handle the entire insurance claims process so you can concentrate on running your life. There really is an advocate out there who offers a "Win-Win".
Homeowners Claims Process
Abba Claims Consultants is the Public Adjusting Firm that provides Peace of Mind found when you know that your trusted ally is representing your best interest.
Multi Family Claims Process
Our Expert Public Adjusters file the claim for you, prepare a scope of work, prepare a detailed estimate of repairs, negotiate and settle Commercial, Homeowners and Multifamily Insurance Claims.
WE SAVE YOU TIME AND MONEY!
WE ELIMINATE YOUR STRESS!
WE NEGOTIATE YOUR SETTLEMENT!
We provide Public Adjusting Services to homeowners & business owners across the States of
Texas - Florida - Oklahoma - Louisiana - Missouri - Kansas - Iowa - Nebraska - Tennessee - South Carolina
Abba Claims Consultants, LLC Texas Public Insurance Adjuster License #2003555
Ches Bostick Texas Public Insurance Adjuster License #1400001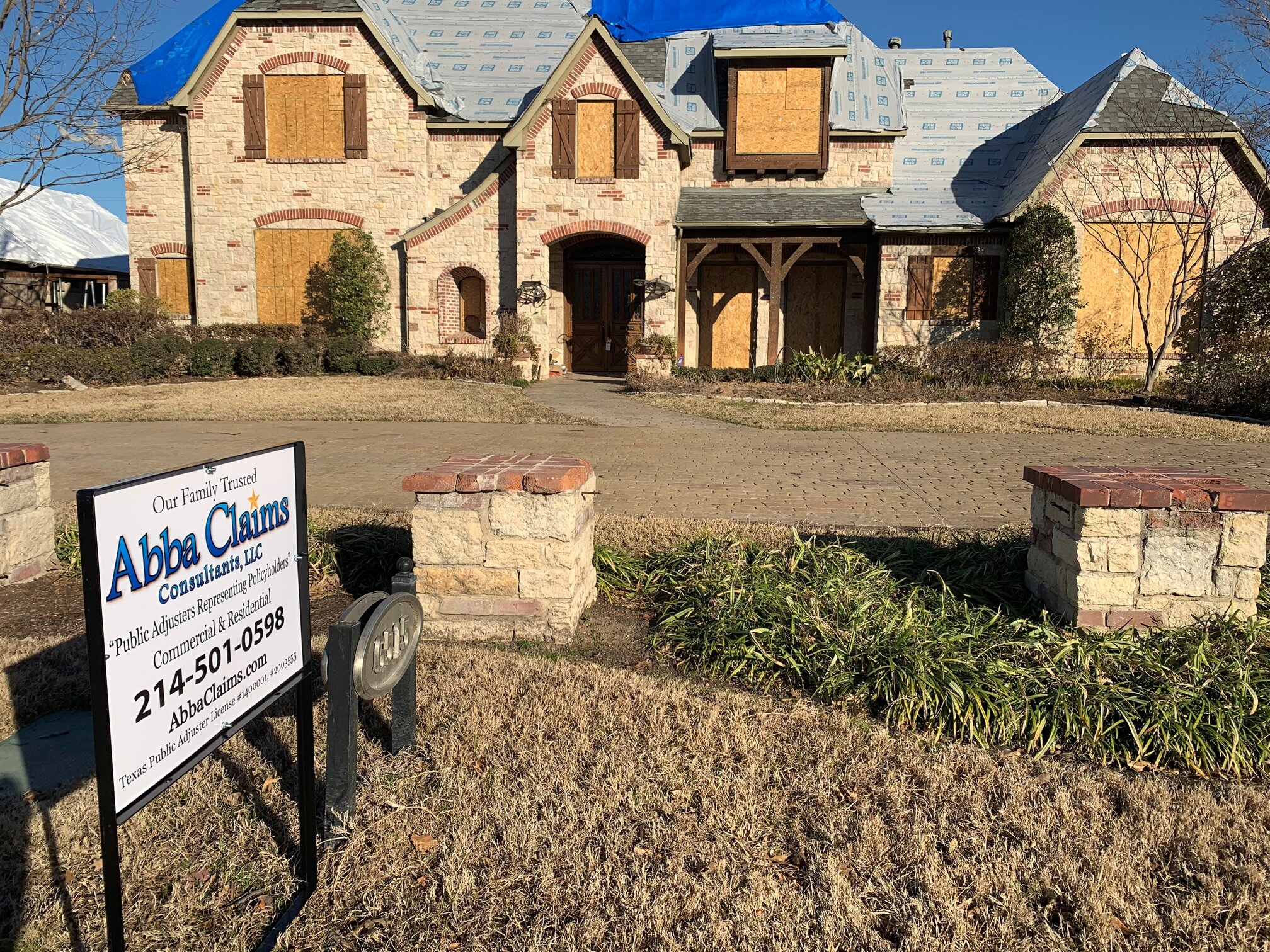 Why I Need My Own Insurance Adjuster
Abba Claims Consultants are Public Insurance Adjusters...
Click to Expand
that provide the peace of mind found when you know that your trusted ally is representing your best interest. An industry leader and innovator in the negotiation and settlement of property damage insurance claims.
But what exactly is a Public Adjuster?
Public adjusters work hard to get their clients what is needed when dealing with property damage insurance claims to commercial and residential buildings.  It's an exclusive relationship between client and the public adjuster that is set up to get claims settled so that policyholders can put their lives back together.  Public Insurance Adjusters are regulated by the Department of Insurance or Regulatory Agencies in each state.
Unfortunately, we do not handle auto claims.
Why You May Need the Services of a Public Adjuster?
Click to Expand
As stated in their insurance policy, an insured-policyholder must prove the claim to the insurance company, Public Insurance Adjusters are experts in the process of all areas of an insurance claim.  This helps "Level the Playing Field" with the insurance company. Licensed public adjusters are experienced in understanding the complexity of insurance policies.
Our Abba Claims Consultants Public Adjusters are trained to identify covered damage and estimate the appropriate repair or replacement costs. Public Insurance Adjusters know the "ins and outs" of the insurance industry, its customs, and practices. Because of this, we are able to present your claim to the insurance carrier in such a way to assure the most favorable outcome.
How Can A Public Insurance Adjuster Help Property Owners?
Click to Expand
The claims adjuster that represents the insurance company and YOU at the same time creates a "Conflict of Interest".
Eliminate this by allowing Abba Claims Public Adjusters to represent you.  We serve policyholders in many capacities.
The "Professional Services" area outlines the many ways that we are available to assist in the insurance claims resolution process.
Schedule A FREE Consultation
We're YOUR Protection! We Know What To Do!
Contact Your Public Insurance Adjusters
Abba Claims Consultants
We provide Public Adjusting Services to homeowners & business owners across the States of Texas - Florida - Oklahoma - Louisiana - Missouri - Kansas - Iowa - Nebraska - Tennessee - South Carolina
Abba Claims Consultants, LLC Texas Public Insurance Adjuster License #2003555
Ches Bostick Texas Public Insurance Adjuster License #1400001
Call (888) 908-2042 for service.