Abba Claims Testimonials
"I know using Abba Claims Consultants Public Adjusters was the best decision we could have made, our stress was gone!"
Book an Appointment
Contact us
TALK TO YOUR PUBLIC INSURANCE ADJUSTER TODAY!
Abba Claims Consultants Client Testimonials & Client Referrals
When you Hire Your Own Insurance Adjuster, it Results in Larger Payments to YOU!
– KW
Ches Bostick and Abba Claims were able to accomplish in a matter of weeks what I couldn't get done in months—settlement of my claim for a new roof and other damages caused by straight line winds. He was efficient, professional and reassuring while securing a larger settlement from the insurance company than I thought available. Ches and his team took the front line position in dealing with adjustors and inspectors who were not pleasant or open to working with me. Worth every penny of their fee, Abba Claims took away the stress and aggravation and got it done!
– Brandi Paulsen, Rockwall, TX
I hope to goodness no one ever is the situation we were, but if so, do yourself a favor & get your life & home back & call Abba Claims. Our insurance company was terrible to our family, inhumane really, & dragged the claim process out for almost a year. We finally found out about Abba & our only regret was not calling earlier. Ches is a "good ol' boy", a straight shooter, & he simply does not play or take any nonsense from anyone. He leaves absolutely no room for that! He knows all their tricks & procedures & shuts it down to only move forward on a new path to recover your home. The adjuster from our (now former) insurance company inadvertently copied me on an email thread between he & Ches, & Ches was firm, assertive, extremely knowledgeable, and demanding of our rights, all while remaining completely professional. Autumn is a machine also, & always communicated & processed paperwork quickly & efficiently. End result: Abba got us far more than the insurance company's offering, in fact, the insurance company should be embarrassed by what they tried to settle with us for & how they repeatedly treated us. I wasted many months, worried, anxious, & sick over our claim & how it was handled. That could have been prevented if I had just called Abba Claims earlier. They are heroes & redeemed all that stress & got our family far more than we ever expected & certainly far more than the insurance company told us we deserved! Let Abba be your army, they will win!! They forever have a special place in our hearts & our prayers!
– Property owner & willing reference, Port Aransas, TX
I am absolutely grateful for Abba Claims Consultants and Ches Bostick regarding the great work on our claim! Our initial offer was approx $17,000 and now is over $135,000.00. Great job!
– Leroy McClure, Jr., Red Oak, TX
It has been a blessing working with Ches Bostick of Abba Claims. When he was first recommended to me, I was reluctant and I felt I could handle my own insurance claim. I was right if I wanted quick money (quick settlement). I was so wrong if I wanted the MOST money that I was entitled to.
Once I signed up with Abba Claims, Ches exceeded my expectations by helping me get almost 200% more than what I had already settled for. With his professionalism and experience, he kept me informed during the process and held the insurance company accountable. Because of my relationship with Abba Claims, I am very satisfied with the total experience and results of filing a claim with the insurance company. I recommend Abba Claims to anyone that has any claim you need to file with an insurance company.
– Donna Tomasi – Dallas, TX
THIS IS IMPORTANT INFORMATION FOR ALL WHO LIVE IN TEXAS. I HAVE HAD AN AMAZING EXPERIENCE. HIS NAME IS CHES BOSTICK.
TEXAS PUBLIC ADJUSTER.
I had a huge tree in my yard that fall on my house and car a couple of years ago destroying my entire front yard over $35,000.00 worth of landscape, a roof, and smashed my car roof in. I fought and fought with my insurance company and was in tears many days fighting with them over my claim. They were sure I would give up!!!!!!!!!!!!!!!! I was about to when I met Ches Bostick.
I never knew there was such a thing as a "Public Adjuster" that would fight for your rights until I met Ches Bostick!!!!!!!!!!!!!!!!!!
He is the most patient, laid back Texas cowboy with a big truck I ever met that can work his magic. Gave him my folder of information and he went to work. After two + years of fighing on my own Ches Bostick with Abba Claims Consultants got right on it and bingo I will have a new roof on my house. All of this was really stupid that my insurance company was trying to skit around the issue but Ches was amazing
– Darla Kubik – Dallas, TX
In regards to my roofing claim, this is a recommendation for Ches Bostick & Abba Claims Consultants who handled the task in a timely and professional manner. His communication and proficiency through the process proved to be more than exceptional. I appreciate his services & attention to my claim which concluded to be in my greatest interest.
– F. & E. Theilen – Coppell, TX
I wanted to thank you for the amazing job you did on getting us through the whole insurance inspection, payment and completion process with our insurance company. You worked with our insurance company diligently which required several re-inspections before they agreed to make the needed repairs … and ensuing payments to your (and our) full satisfaction. I know the whole process would have been extremely frustrating and ultimately impossible if it had not been for your very thorough, professional and wonderfully helpful assistance. Thank you for everything, I will be most happy to refer you to anyone in need of a professional.
– Virgil Swirczynski – Aubrey, TX
I contracted with Abba Claims & Mr. Ches Bostick to represent me in a roofing claim with my insurance company. Mr. Bostick was able to negotiate a fair and equitable settlement and was a pleasure to work with. I was very satisfied and would recommend Abba Claims for your insurance adjuster needs.
– The Meadors
Our insurance claim could only be trusted to an experienced public adjuster. Ches Bostick is the person for the job. Our insurance under paid our claim severely. Ches was very thorough and very honest. We are very pleased with the job he did on our claim.
– R. Johnson
My experience with Ches Bostick was straight forward and stress-free. My representative explained the insurance claim process and claim process in detail. After my estimate was revised & the items were added that were missed by my adjuster. The increase in my claim with my insurance company was huge. Everything went just as I had expected.
– Betty Reichel, Dallas, TX | Spring Valley United Methodist Church
My church was struggling with a leaking roof after a hail storm and so we filed an insurance claim. The insurance company inspected our roof and ultimately denied our claim, stating that there was no hail damage. Our maintenance department and a contractor inspected the roof and disagreed with the insurance company. It was recommended that we hire a public adjuster to represent us for our claim. The church Trustees agreed and after our research, we were fortunate to find Abba Claims Consultants, LLC to represent our interest. Abba Claims inspected our property and determined that in their opinion, we did have hail damage. Abba Claims worked with our church as our consultant throughout the entire claim process. In addition, during each step of the process Abba Claims guided us to professional roofing companies who presented their proposals to the church Trustees for selection. In the end, Abba Claims took our claim from no damage, to obtaining an insurance settlement over $480,000.00. We are now in the process of getting a roof that will keep us dry for 25 years. We would not be able to get a proper settlement and make the much needed repairs without the amazing assistance and guidance of Abba Claims.
– Bill Mead, Dallas, TX
I have been working in home improvement for many years. Unfortunately, when working with insurance companies, they often don't award their customers the true value of the homeowner's claim. Negotiating with them was frustrating and usually a losing battle. Since working with Ches and Abba Claims Consultants that frustration has been removed. They knock it out of the park every time and always amaze me by finding things which should have been covered that I wouldn't have thought to ask for. When dealing with insurance companies you want Abba Claims in your corner fighting for you!
– Richard Newton, Plano, TX
Ches,

I would like to thank you for you diligence in obtaining for me a great settlement in the appraisal process for my hail damage claim to my roof. The insurance company denied my roof claim entirely and was willing to provide only a pittance for the interior damage my home suffered. For me Abba Claims as my appraiser for my hail claim worked out with great results. Once again, Thanks!
– Dr. Obi – Waxahachie, TX
I had terrible damage to my house from the Tornado of 12/26/2015. It took an entire week for my insurance company to send an adjuster to our home. Upon arrival, the adjuster merely did a walk through in my house for approximately 35 minutes. He then wrote a very scanty estimate. My insurance was quick to nickel and dime our claim with the estimate they provided. That was shocking to me and I did not know what to do or how to approach my insurance company. I did an online search for Public Insurance Adjusters and discovered Abba Claims Consultants, LLC. Thanks to internet customer reviews, I immediately placed a call to Abba Claims and within 24 hrs Ches Bostick the owner of the company sent out his crew to my house who spent over 4 hrs analyzing and reviewing the damages.
In a nut-shell, since I hired Abba Claims Consultants as our public insurance adjuster… I have had rest in my mind and no longer have to deal with the hassle of my insurance company. Ches knows what he is doing and this is very comforting for the customer. With him on my case, there are no more games or gimmicks from my insurance company. Ches is very personable, he answers your needs promptly and you have less to worry. He has done and continues to do a great job with my claim and has made the process stress free for our displaced family.
Needless to say that hiring Abba Claims Consultants to help settle our tornado damage claim was the correct decision. At some point I felt that Abba Claims did a better job than any lawyer would have done. I really do appreciate what Abba Claims has done and continue to do for us. I give them my highest recommendations! NO REGRETS!! Will Re-Hire a Thousand Times!
– Hunter Miller – Norman, OK
When our new home flooded from the pipe burst, we were devastated. We were overwhelmed with the insurance claims process and the amount of documentation necessary for an insurance claim. The insurance company adjuster did not have our best interest and I know that using Abba Claims Public Adjusters was the best decision we could have made. It is an invaluable asset to have a professional Public Insurance Claims Adjuster working on the behalf of the customer. If anyone ever experiences a tragedy such as this I will recommend Ches Bostick and Abba Claims Consultants with confidence. Thank you Abba Claims for getting us the proper claim settlement!
– B. Christy – El Paso, TX
After my insurance company didn't pay, I was considering paying for my roof repairs from my retirement fund. Fortunately I met Ches Bostick. He told me that was not necessary. He completed his investigation of my claim and damages to my home and I was shocked. After two meetings with the insurance adjuster, my claim went from just over $1,450.00 to $43,465.00. Thank you for your services. You saved us!
– J. Moore – Mansfield, TX
My representative, Ches Bostick was a great asset in our claims process. His expertise and knowledge as licensed public adjuster and his ability to identify damage that was missed by my insurance adjuster paid great dividends. Our claim amount was increased dramatically.
– W. Jefferson – Mansfield, TX
My home was damaged in the April hail storm. Ches Bostick is an experienced insurance adjuster and was very valuable through the claims process with my insurance company. He met with my adjuster and made sure our claim was paid correctly. I am very pleased.
– The Farrands
We spoke with approximately six adjusting companies and Ches Bostick was definitely the most qualified. He was very detailed & thorough. It was a relief not to worry about additional expenses out our pocket, there were none!
Abba Claims Consultants Professional Services
Licensed Public Adjusters for
Texas - Florida - Oklahoma - Louisiana - Missouri - Kansas - Iowa - Nebraska - Tennessee - South Carolina
Your Private Insurance Adjuster
How We Work For You
The Insurance Claim Process and how we obtain the maximum amount on your claim.
Commercial Claims Process
We handle the entire insurance claims process so you can concentrate on running your life. There really is an advocate out there who offers a "Win-Win".
Homeowners Claims Process
Abba Claims Consultants is the Public Adjusting Firm that provides Peace of Mind found when you know that your trusted ally is representing your best interest.
Multi Family Claims Process
Our Expert Public Adjusters file the claim for you, prepare a scope of work, prepare a detailed estimate of repairs, negotiate and settle Commercial, Homeowners and Multifamily Insurance Claims.
WE SAVE YOU TIME AND MONEY!
WE ELIMINATE YOUR STRESS!
WE NEGOTIATE YOUR SETTLEMENT!
We provide Public Adjusting Services to homeowners & business owners across the States of
Texas - Florida - Oklahoma - Louisiana - Missouri - Kansas - Iowa - Nebraska - Tennessee - South Carolina
Abba Claims Consultants, LLC Texas Public Insurance Adjuster License #2003555
Ches Bostick Texas Public Insurance Adjuster License #1400001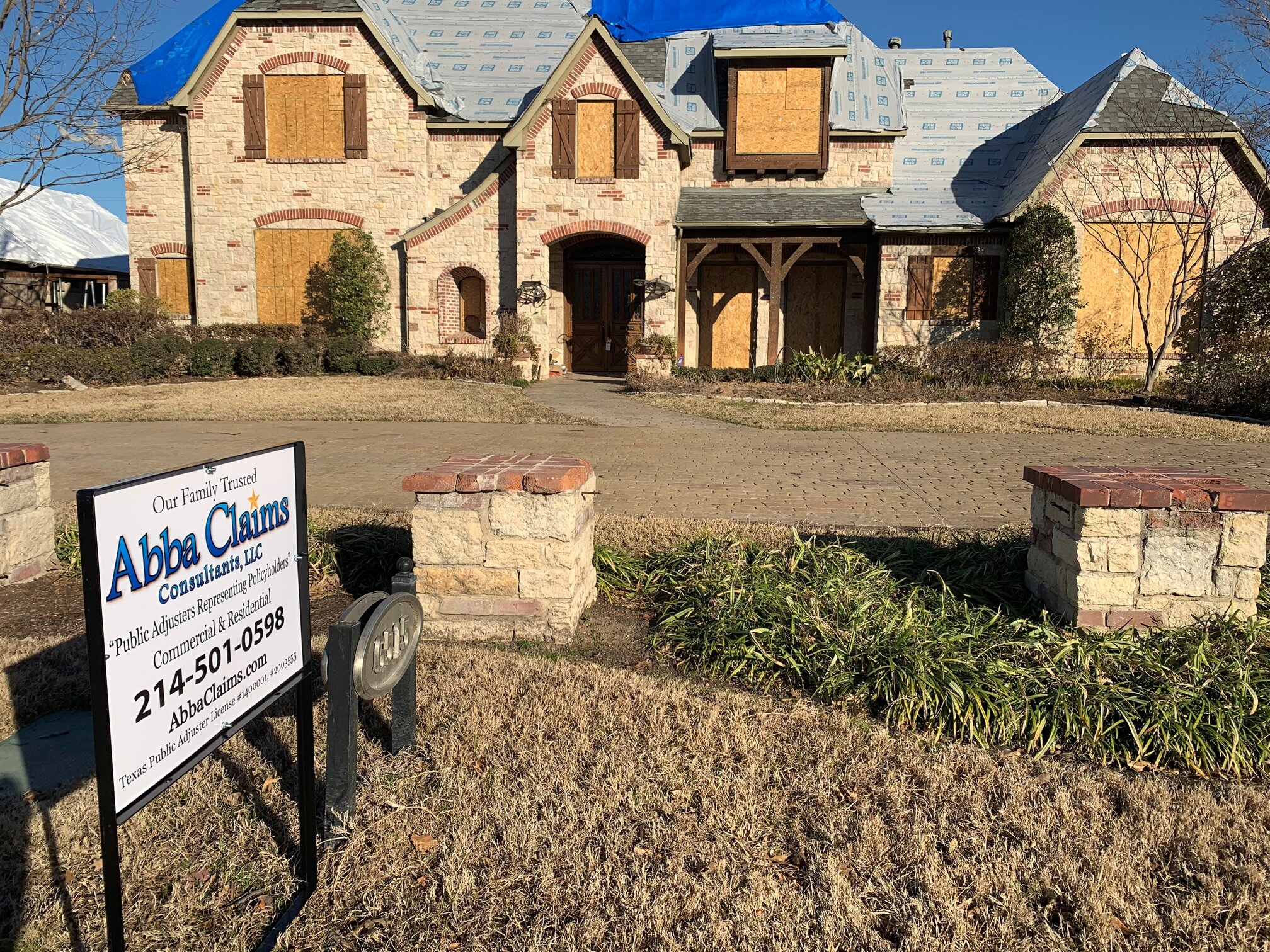 Why I Need My Own Insurance Adjuster
Abba Claims Consultants are Public Insurance Adjusters...
Click to Expand
that provide the peace of mind found when you know that your trusted ally is representing your best interest. An industry leader and innovator in the negotiation and settlement of property damage insurance claims.
But what exactly is a Public Adjuster?
Public adjusters work hard to get their clients what is needed when dealing with property damage insurance claims to commercial and residential buildings.  It's an exclusive relationship between client and the public adjuster that is set up to get claims settled so that policyholders can put their lives back together.  Public Insurance Adjusters are regulated by the Department of Insurance or Regulatory Agencies in each state.
Unfortunately, we do not handle auto claims.
Why You May Need the Services of a Public Adjuster?
Click to Expand
As stated in their insurance policy, an insured-policyholder must prove the claim to the insurance company, Public Insurance Adjusters are experts in the process of all areas of an insurance claim.  This helps "Level the Playing Field" with the insurance company. Licensed public adjusters are experienced in understanding the complexity of insurance policies.
Our Abba Claims Consultants Public Adjusters are trained to identify covered damage and estimate the appropriate repair or replacement costs. Public Insurance Adjusters know the "ins and outs" of the insurance industry, its customs, and practices. Because of this, we are able to present your claim to the insurance carrier in such a way to assure the most favorable outcome.
How Can A Public Insurance Adjuster Help Property Owners?
Click to Expand
The claims adjuster that represents the insurance company and YOU at the same time creates a "Conflict of Interest".
Eliminate this by allowing Abba Claims Public Adjusters to represent you.  We serve policyholders in many capacities.
The "Professional Services" area outlines the many ways that we are available to assist in the insurance claims resolution process.
Schedule A FREE Consultation
We're YOUR Protection! We Know What To Do!
Contact Your Public Insurance Adjusters
Abba Claims Consultants
We provide Public Adjusting Services to homeowners & business owners across the States of Texas - Florida - Oklahoma - Louisiana - Missouri - Kansas - Iowa - Nebraska - Tennessee - South Carolina
Abba Claims Consultants, LLC Texas Public Insurance Adjuster License #2003555
Ches Bostick Texas Public Insurance Adjuster License #1400001
Call (888) 908-2042 for service.