TALK TO YOUR PUBLIC INSURANCE ADJUSTER TODAY!
How To Deal With An Insurance Adjuster After A House Fire?
File Your Claim Promptly
Your insurance policy requires you to report the loss "as soon as reasonably possible". You can obtain your claim number by calling your agent or your insurance company claims department. If you delay notifying your insurance company, you may jeopardize your claim.
Request an Advance
You can request an advance against your insurance claim. Typically this is paid against the "Personal Property or Contents Coverage". You were most likely forced to relocate and this advance will assist in paying for basic necessities.
Save the Receipts
Save receipts or use an electronic payment method to document all of your extra expenses.
Do Not Agree
Always avoid a conflict of interest! Don't agree to use repair or mitigation contractors your insurance company adjuster recommends. You're not required to use them. Insurance company referred contractors have an alliance not have your best interest. They will always protect their insurance company relationship to secure future work.
Your Responsibilities After A House Fire
Secure Your Property
All insurance policies require you to take reasonable steps to minimize additional damage to your property. This means that it is "your duty to mitigate damages". In other words, to the best of your ability, "do what it takes to keep the damage from getting worse". Example: have a contractor board up windows and put a tarp on the roof. Your insurance company will pay these costs when you make your claim. Other steps you might need to take to mitigate damages include the following…
Remove Personal Items
Be sure to get your money, jewelry, firearms etc…
Board up & Fence Up
To prevent vandalism, have a temporary chain-link fence installed around the property. Board up the windows of your home or building to keep vandals out.
Pay Attention
Keep a close eye on your property. Let the police department know that you would like them to drive by on occasion to make sure the vandals haven't entered the home to steal personal property items.
Document Everything
Keep good notes! Every time you communicate with your insurance agent or adjuster about your insurance claim, policy coverage etc…
Take Charge Of The Fire Insurance Claim Process
Hire Your Own Insurance Adjuster
Fires are always overwhelming and will turn your life upside down. This type of catastrophe will affect your job or business, your children…YOUR LIFE! WE offer you an alternative to an unfavorable insurance claim experience. We will keep your life on track.
Personal Property
Start preparing an inventory list of damaged personal property listing the the name of the item, quantity, manufacturer, age, and Replacement Cost Value (RCV) of all items.
Gather up Receipts
Start organizing, receipts, credit card records etc… to validate the information provided on the personal property spreadsheet. This is imperative so that you will receive the proper settlement that you are owed.
*Keep Control
This is imperative! This has to be managed!!!
Do not allow a restoration company to enter your home like tasmanian devils and start boxing up personal property items to take to their storage facility. All items must be photographed and an inventory list has to be established. The items also must be coded and properly documented. Determination should also be made as to which items can be salvaged (cleaned) or non-salvageable items (discarded and replaced). This will be a big point of controversy without professional representation.
Your Fire Insurance Claim Must Be Protected
Fire and smoke damage is one of the most common causes of property damage, resulting in serious problems for homeowners, businesses and commercial property owners. In addition to damage from fire and smoke, there may also be problems related to the process of putting out the fire, such as water or chemicals inside the building, and potential damage to the building's structure, electrical and heating-cooling systems.
Regardless of the cause of a fire (explosion/gas leak, lightning, electrical, grease, etc.), an owner needs to make quick decisions while still under a great deal of stress and confusion. Who should we to call? Where do we stay tonight? Which belongings escaped unharmed? What exactly did we have in the building? How can we start the clean-up process?
Abba Claims Consultants Public Adjusters are there to help you put your insurance to work for you. We have the experience and the knowledge to answer your immediate questions and help you through the complicated claims process. One of the first things we do is to evaluate all of the fire, smoke and water damage and take a good hard look at your policy.  Determining the "scope of loss" and analyzing your policy will help us best determine the best way to move forward with your claim to get you the maximum possible settlement.
When we evaluate fire damage, we look carefully at all the smoke damage related to the fire, including soot, raw heat and of course, all of the water or other extinguishing materials. You should be paid in full for all of the damage, not just part of it.  If your residence or business is not livable or workable, you may need to find new quarters while the damage is repaired.
Many people don't realize that "additional living expenses" or "loss of use" like hotel accommodations, restaurant meals and dry cleaning can all be claimed and covered. We'll help you sort out those issues, so you can get back to living your life.
The question of "repair or replace" comes up frequently after a fire.  Please be cautious if you are approached by "restoration" companies. They may try to get you to authorize unnecessary work, or ask you to sign an authorization form that will allow them to bill your insurance company directly. Before agreeing, think through your options and ask yourself: Do I want to give someone else the right to collect directly from my insurance company… especially for work that may not be needed?
Hopefully you will never find yourself staring at the fire damaged remnants of your home or business, but if you do, count on Abbas Fire Insurance Claims Adjusters to assist you in finding the experts who can help you get your property back to its pre-loss condition.
If you live in a multi-unit building and one of the other units is damaged by fire, you should call us. Your residence may have suffered damage from soot, smoke or heat that may not be apparent. Find out for sure whether or not you have a claim worth filing by calling us for a complimentary, no-obligation property evaluation.
How We Work For You
The Insurance Claim Process and how we obtain the maximum amount on your claim.
Commercial Claims Process
We handle the entire insurance claims process so you can concentrate on running your life. There really is an advocate out there who offers a "Win-Win".
Homeowners Claims Process
Abba Claims Consultants is the Public Adjusting Firm that provides Peace of Mind found when you know that your trusted ally is representing your best interest.
Multi Family Claims Process
Our Expert Public Adjusters file the claim for you, prepare a scope of work, prepare a detailed estimate of repairs, negotiate and settle Commercial, Homeowners and Multifamily Insurance Claims.
WE SAVE YOU TIME AND MONEY!
WE ELIMINATE YOUR STRESS!
WE NEGOTIATE YOUR SETTLEMENT!
We provide Public Adjusting Services to homeowners & business owners across the States of
Texas - Florida - Oklahoma - Louisiana - Missouri - Kansas - Iowa - Nebraska - Tennessee - South Carolina
Abba Claims Consultants, LLC Texas Public Insurance Adjuster License #2003555
Ches Bostick Texas Public Insurance Adjuster License #1400001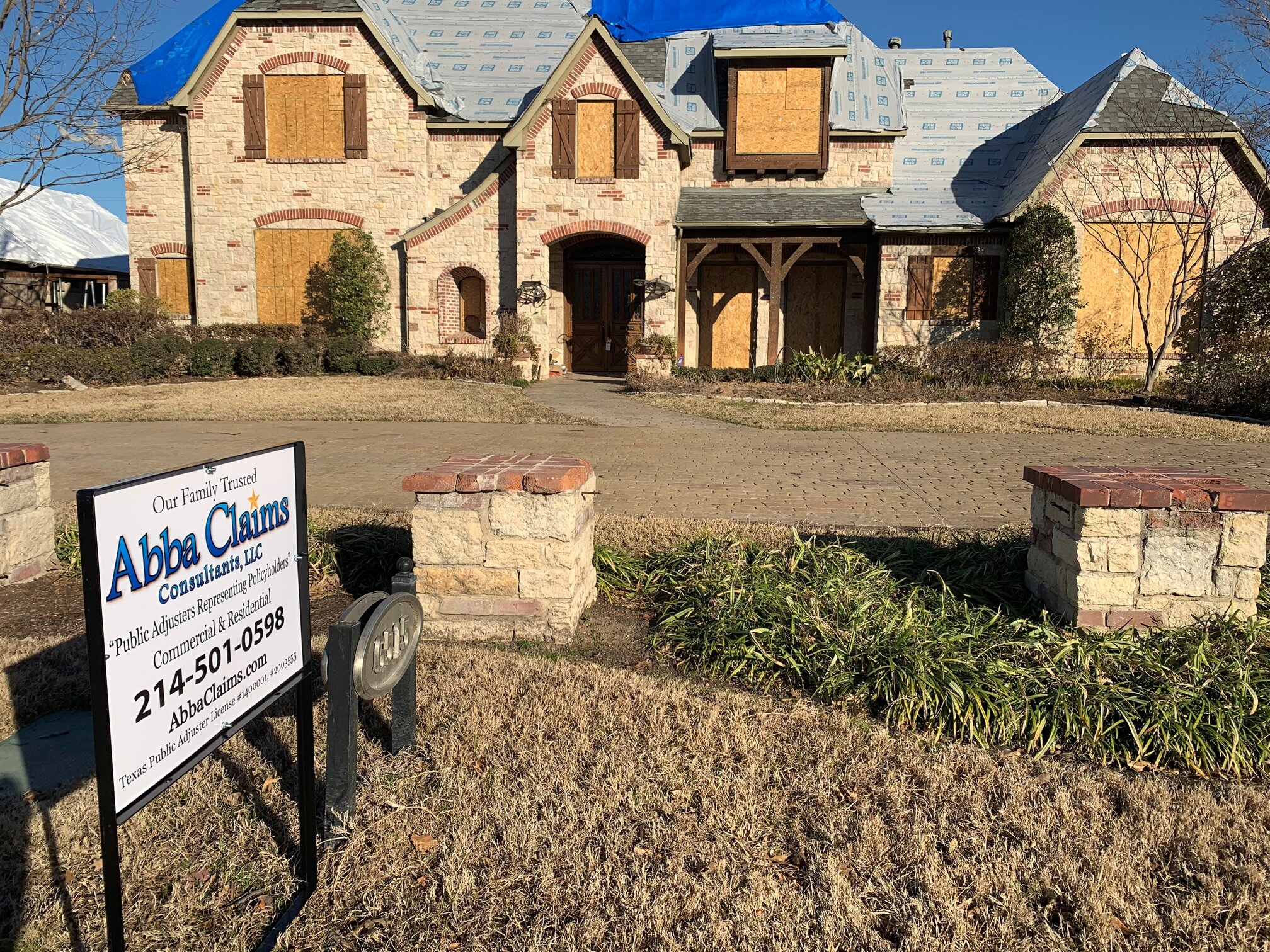 Why I Need My Own Insurance Adjuster
Abba Claims Consultants are Public Insurance Adjusters...
Click to Expand
that provide the peace of mind found when you know that your trusted ally is representing your best interest. An industry leader and innovator in the negotiation and settlement of property damage insurance claims.
But what exactly is a Public Adjuster?
Public adjusters work hard to get their clients what is needed when dealing with property damage insurance claims to commercial and residential buildings.  It's an exclusive relationship between client and the public adjuster that is set up to get claims settled so that policyholders can put their lives back together.  Public Insurance Adjusters are regulated by the Department of Insurance or Regulatory Agencies in each state.
Unfortunately, we do not handle auto claims.
Why You May Need the Services of a Public Adjuster?
Click to Expand
As stated in their insurance policy, an insured-policyholder must prove the claim to the insurance company, Public Insurance Adjusters are experts in the process of all areas of an insurance claim.  This helps "Level the Playing Field" with the insurance company. Licensed public adjusters are experienced in understanding the complexity of insurance policies.
Our Abba Claims Consultants Public Adjusters are trained to identify covered damage and estimate the appropriate repair or replacement costs. Public Insurance Adjusters know the "ins and outs" of the insurance industry, its customs, and practices. Because of this, we are able to present your claim to the insurance carrier in such a way to assure the most favorable outcome.
How Can A Public Insurance Adjuster Help Property Owners?
Click to Expand
The claims adjuster that represents the insurance company and YOU at the same time creates a "Conflict of Interest".
Eliminate this by allowing Abba Claims Public Adjusters to represent you.  We serve policyholders in many capacities.
The "Professional Services" area outlines the many ways that we are available to assist in the insurance claims resolution process.
We provide Public Adjusting Services to homeowners & business owners across the States of
Texas - Florida - Oklahoma - Louisiana - Missouri - Kansas - Iowa - Nebraska - Tennessee - South Carolina
Contact Your Public Insurance Adjusters
Abba Claims Consultants
We provide Public Adjusting Services to homeowners & business owners across the States of Texas - Florida - Oklahoma - Louisiana - Missouri - Kansas - Iowa - Nebraska - Tennessee - South Carolina
Abba Claims Consultants, LLC Texas Public Insurance Adjuster License #2003555
Ches Bostick Texas Public Insurance Adjuster License #1400001
Call (888) 908-2042 for service.